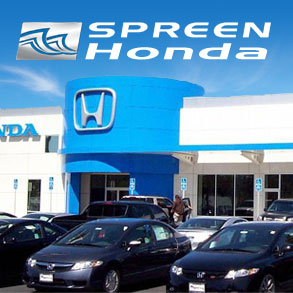 Serving Southern California for 30 years, Spreen Honda offers the one of the largest selection, some of the best prices, and has one of the best value added program in the Riverside area. Family owned and operated, we strive to make our customer service second to none. Whether you're purchasing a car or getting an oil change, our goal is for every customer to truly enjoy their experience.

Our Customer Service Initiative ensures you that we are focused on improving the customer experience. Our mission is to make every customer completely satisfied with any transaction or contact point with Spreen Honda. Our belief is that the customer is an unparalled priority, and service should come with a smile. We have great integrity and treat customers and employees alike with dignity and respect. We only represent quality products that we would use personally, and we continuously ask ourselves what we can do to over deliver and exceed expectations.

New And Certified Used Sales
We have a large selection of new Hondas and pre-owned vehicles for you to choose from. We'll get you in the right car for your needs at the right price. Our service department offers outstanding and affordable service. We're also happy to help you find the part or accessory you're looking for. Come see us at 25050 Redlands Blvd in Loma Linda or give us a call at (888) 918-8391 today!
Our full line of vehicles are available for you to look at and test drive. Feel free to contact our customer-oriented staff with any questions or concerns about our New or Certified-Used cars in our Inventory. Also check for any New Car Specials and Coupons, or Incentives we may be currently offering. Please contact us or call us at (888) 919-1453.
Spreen Honda's Quality Service
Quality Care is the difference between buying the car you love and loving the car you bought. It is the commitment of Spreen Honda is to provide you with the highest level of service and support possible. In fact, Quality Care is one of the greatest advantages of owning a Spreen Honda vehicle. Our service department is committed to your complete satisfaction.